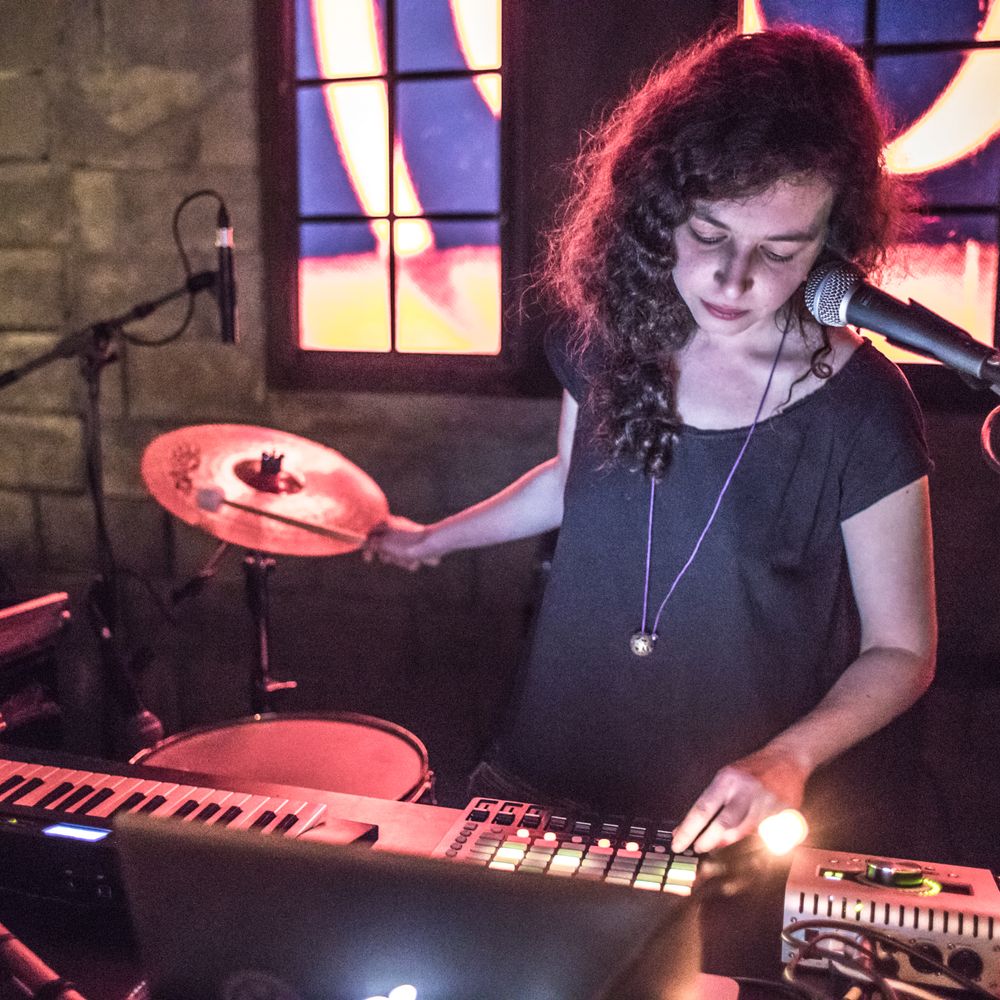 Maya Aghniadis is a music producer and multi–instrumentalist raised in Beirut and based in Athens since 2021.
Starting the drums at an early age. She quickly got involved with the piano and the guitar. Working on her first compositions while finishing her bachelor's degree in 2D animation.
Following a year of professional training in Film Scoring at the International Academy of Music (Nancy, France), Maya experimented with new sounds and musical theories that lead to the creation of her project Flugen.
Her first release "Lost Banjo" (2017) reveals the sound of a custom made guitar redesigned as a Banjo and referred to as the main character of the storyline communicating with a cello performed by Marie Caparros.
Collaborating with other artists is also a main aspect of her artistic practice. Creating a unique approach by merging different artistic identities, she developed a musical show that brought different enthusiastic performers on stage – from dancers to vocalists and actors.
Storytelling through music is her creation process following external and internal factors, instincts and feelings, surroundings and different cultures. The sound floats through percussive elements, deep atmosphere to heartwarming harmonies.
Flugen's third "Dreams & Colors" released with Ohxala Records (2018) introduces more organic elements to the sound. Synth and piano elements that evoke a deep and jazzy atmosphere.
Merging her releases "Ondes" (2018) and "Dreams & Colors" (2018) , Maya developed a musical show that brought different performers together on stage – with dancers, a group of vocalists and musicians. The fourth EP "Meshwar" (2019) was a subsequent result of these collaborations.
"Poupayee", released in 2020, demonstrated her approach as a musical storyteller. However the beats had become sharper, the atmosphere deeper and the sound more disruptive. The album was voted one of the best records of 2020 by Arab News.
After her move to Greece, Maya discovered her greek roots and connection with Rembetiko and Greek experimental music inspiring her upcoming story "Penté" (release date : November 11th 2023)
A storyline that reflects a move to a new geographical dimension.Her second root that traces back to the first one.
Two opposite yet so similar dimensions : blessed by nature and corrupted by politics.